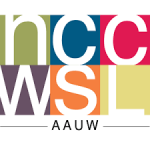 The National Conference for College Women Student Leaders (NCCWSL) will be held at the University of Maryland, in College Park, MD from Wednesday, May 29 through Saturday, June 1, 2019.

The 2019 program is the biggest, boldest NCCWSL yet! At NCCWSL, participants will:
Develop and strengthen a voice, skill set, and mind-set for leadership
Build a professional tool kit for postgraduate life
Learn how, why, and when to take action and be a change maker
Gain a better understanding of local, national, and global issues and policies affecting women and of AAUW's role in empowering women
AAUW Wyandotte-Downriver Foundation will sponsor three college or university Downriver students. All bus costs and registration fees will be paid. See more information on this website under Projects > NCCWSL.